Hospitality
Portion packaging for the hotel industry, restaurants, cafés & (business) catering
Creating an experience is the key to success in the hospitality industry. This will win the heart of your guests and give your business its own identity. Portion packaging is often a small, but all-important finishing touch. They are used for a perfect presentation, as an added service or for extra communication. It is precisely these kinds of details that will make people smile. Discover our inspiring suggestions!
Van Oordt in restaurants
Van Oordt products can often be found in lunchrooms and restaurants. Think of sugar and creamer sticks for your coffee and tea, for example. Countless restaurants use our portion packs for their guests on a daily basis. Looking for the right portion packaging for your restaurant? In addition to sugar, sweetener, coffee milk and creamer, you will also find honey, biscuits, chocolates and snacks in handy portions.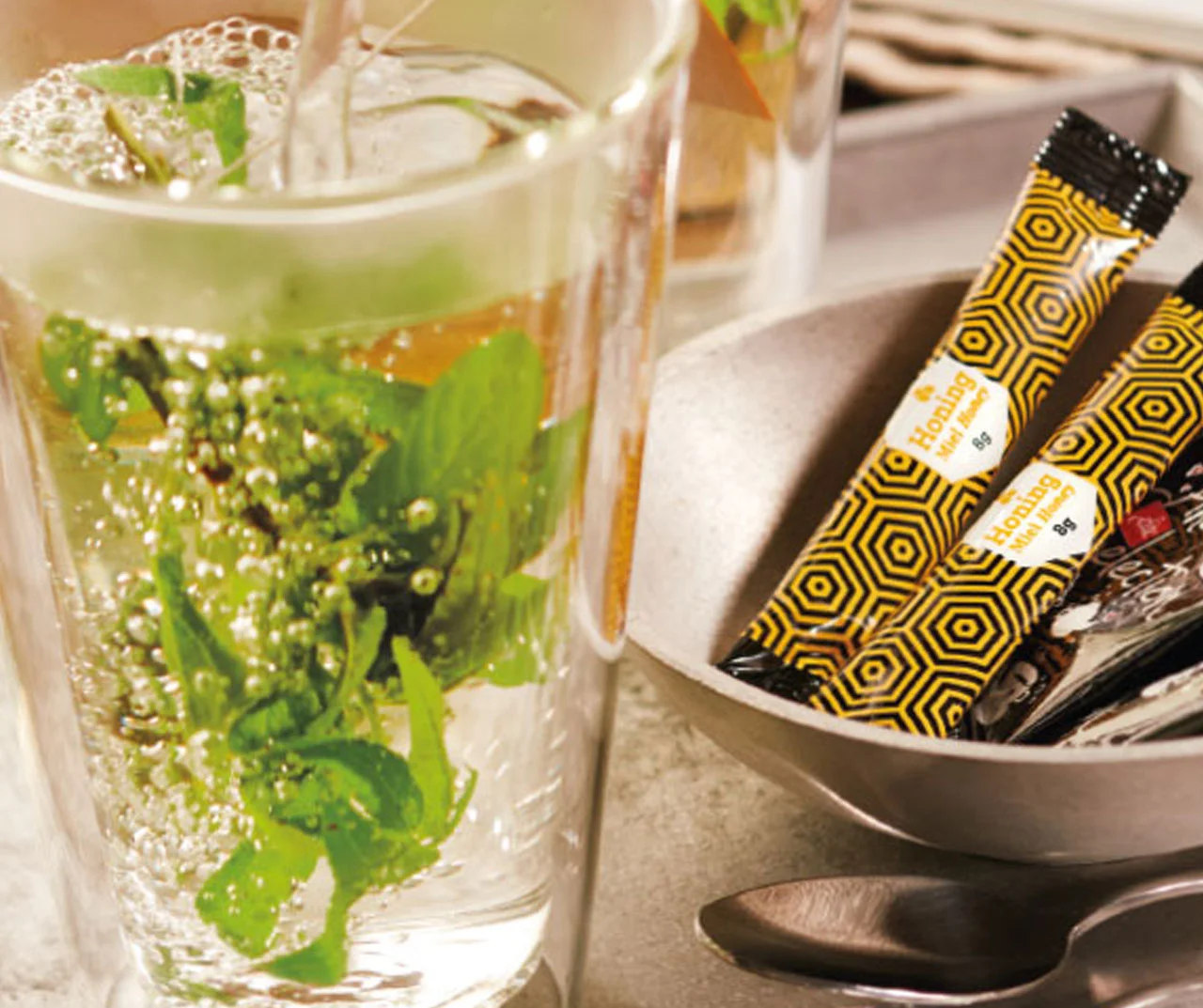 Mini packaging for catering
Self-service and portion packaging is a golden combination. Convenience, speed and freedom of choice go hand in hand. Think of sweet spreads for the breakfast buffet or sugar and creamer sticks for coffee corners and meeting rooms. Get to know our product range and associated presentation tools.
Portion packs for hotels
An overnight hotel stay for guests is usually an experience characterised by comfort, luxury and attention. One of the ways you can offer your guests all of these is by offering portion packs. At Van Oordt you will find a wide range of portions for the hotel industry. How about cups with sandwich toppings for the breakfast buffet? And you have come to the right place when it comes to hygiene.
Advantages of portion packs
100% hygiene because the sealed packaging is made for single and individual servings;
The use of portions and the perfect serving size ensure reduced food waste;
Convenience due to the perfect serving size, the readiness for use and the many options for variation;
The products are always within reach, without preparation time. This provides extra efficiency and takes less time.
Your own logo on portion packs
At Van Oordt it is also possible to print portion packs with your logo, name or design. This will look professional and increase brand awareness. Whether you want sugar, creamer, biscuits or other products within our range packaged in your own packaging, we will be happy to help you with your private label.
Product information
Do you want specific information about a certain product? You can find most information here.
Contact